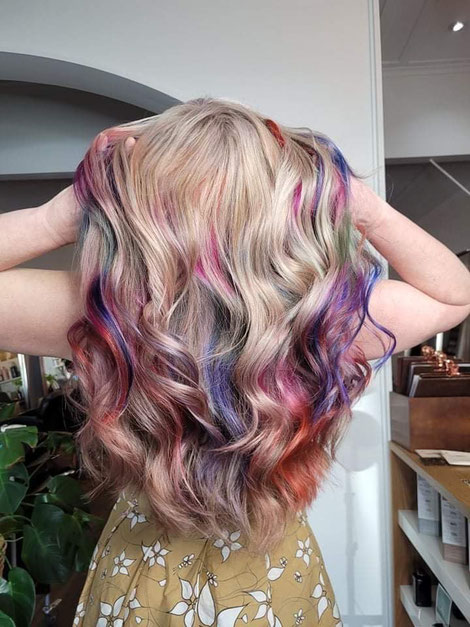 Ever wondered what a toner is and why your hair needs one?
A toner is colour used to mask an unwanted tone in your hair. The most common way we use a toner is after lightening your hair and during the process of achieving your dream colour.
Colouring hair is not like painting a wall. To create your dream colour we need to consider two things: the level (from black to brown to blonde) you would like your hair to be, and also the tone (or reflect) you would like. The tone refers to how warm or cool the colour is. For example, this could mean a cool/violet/blue/green/ash tone or a warm/yellow/orange/pink/red tone. All of this level and reflect adjustment happens inside your hair's structure, we cannot simply paint a colour on the outside - that would be easy!

So, first things first, let's start with the level. When you hair is lightened we use lightening products to enter your hair and break down the natural pigment, which is called melanin. We do this using permanent colours or or powder lightener (bleach) mixed with peroxide. The quality of the lightener is an important factor, which is why we choose to use the world's most awarded lightener, Blondor by Wella. The better the quality of lightener, the safer it is on your hair. The strength of the peroxide is also important - we adjust this level according to how much lift is required and the strength of your hair. And, the more slowly and gently we lighten your the hair the more even the end result. The lightening process can cost from $132-264 depending on how many lighter pieces you want to see and how thick and long your hair is. This price is calculated based on how much product we need to use, and also the stylist's labour time. Foiling is particularly labour intensive, and for detailed pricing click here.

Lightening your hair will change the hair's structure, causing a break down in the strength of your hair and also resulting in dehydration. We recommend you choose to support your hair during this process by adding a strengthening treatment to your lightening service called Wellaplex.
The Wellaplex treatment service costs $80 and includes three steps:
1. Adding the Wellaplex treatment into your lightener to support your hair's structure
2. Adding the Wellaplex mask to your hair at the basin after lightening to re-hydrate your hair
3. Taking home a Wellaplex restructuring treatment to use at home to maintain your hair's strength
When we lighten your hair to the desired level, it exposes the underlying pigment in your hair, and this is visible as a tone. For example, when we lighten very dark hair it goes red, then orange, then yellow over a period of an hour or so. The amount of time this takes and the level of lightening we are able to achieve will depend on how much colour is present in your hair and the strength of your hair.
Your stylist will work with you to determine the level of lightening you need to achieve your dream colour, and then use a gloss toner (another gentle colour) to neutralize any unwanted warmth and deposit any reflect of colour you would like to see. You could be searching for a lighter ashy brown, or a clean and creamy blonde, or a silvery ash. There are an infinite number of on-trend shades to choose from so coming along to your appointment with some reference images is ideal. A toner will cost $33-$55 depending on how much colour and peroxide we need to weigh and mix up. This will vary according to the length and thickness of your hair, and your hair may require two toners to achieve your dream colour.
To achieve a vivid colour (like the one on our gorgeous client, Adele, in the picture) your hair will need to be lightened, toned, and then have the vivid colour applied over the top.
Let's bust some myths...
Toners aren't colours:

A toner is a semi or demi permanent colour mixed with a low strength developer. They are colours used for a specific purposes of changing the hair's reflect.

Toners should last for months: A toner is a gloss that sits on the outer structure of you hair and washes off, revealing the lightened hair underneath. The amount of time it lasts will depend on the reflect you choose, how damaged your hair is, and how you care for your hair at home. Toners will wash out faster if they are very cool, your hair is damaged, and they are sensitive to harsh cleansers like shampoo. So, it's important to take care of it with colour safe hair care like our Davines MINU range.
Toners can lighten your hair: A toner's chemical makeup is a very gentle colour that can deposit reflect only. It cannot lighten and usually will add shine and help smooth your hair. If your hair is too warm or too dark it usually needs more lightening.
Toners should be free: A toner requires the use of chemicals and a stylists time and has a cost associated with it, like all of our services.
Purple shampoo does the same thing as a toner: Purple or Blue shampoos and conditioners can help prevent toner fade once the right reflect is achieved in salon but they are not the same thing as a toner.
Ready to book an appointment, but not sure which service you need?
You can book in online for your FREE 30 minute consultation with us here.