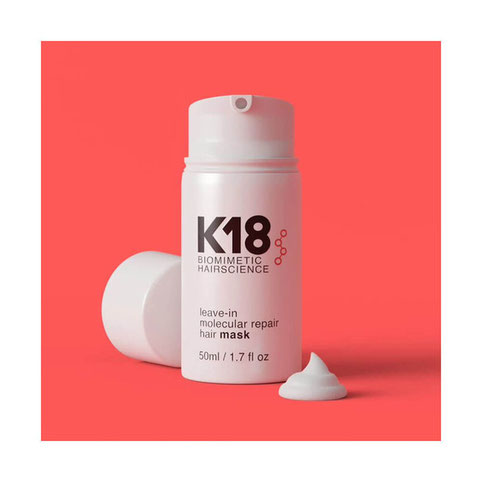 Hair damage can be the result of stress caused by chemicals, mechanical action  and even via the environment.
Damaged hair loses its colour, can become frizzy, won't hold a style, and a can even break. This breakage is caused by the breakdown of the hair's internal structure.
Internally, the structure of your hair is maintained by 3 different bonds: salt, hydrogen and di-sulphide.
Salt bonds and hydrogen bonds are the weakest and are being broken in your hair all the time with water and heat styling.
The di-sulphide bonds are the ones that help keep your hair's stucture in place, keeping your hair strong. When these are broken your hair becomes weak and can even break. That's where bond-building treatments come in.
There are a range of bond-builders available such as the 'plexes (think Olaplex or Wellaplex), which have revolutionary for providing strength to damaged hair. The newest technology in bond building is K18.
K18 is a leave in mask that progressively repairs hair damage. It is quick and easy, and the results are noticeable after just one use. Unlike a 'plex it is not added to your colour, but applied as a mist and mask treatment in salon.
You can also use K18 at home.
What does an in salon k18 treatment consist of?
Our in salon molecular repair service is a 2 step treatment.
Step 1:
The K18 Professional Mist is applied to your hair prior to your chemical service. This penetrates into your hair and targets areas of damage.
Step 2:
After your chemical service we apply the K18 Professional Mask to repair any hair damage caused during the service. The mask also contains conditioning agents to make your hair feel soft and smooth and look shiny.
The K18Peptide™ is proven to reverse hair damage caused by heat styling, chemical services and especially lightening, in just 4 minutes.
How do I use K18 at home?
Prime your hair: shampoo your hair, do NOT condition, and towel dry. We recommend Davines MELU anti-breakage shampoo.
Apply K18: gather your hair in your hands like you would if creating a low pony tail. Apply through the ends first and comb through with a wide tooth comb like these luxury ones from Malliya that are designed for combing your treatment through your hair.
Activate: wait 4 minutes before applying any styling products or styling. As always, we recommend heat protection whenever you style your hair. We love the Wella Eimi Thermal Image.
How often should I use the K18 mask?
When you have an in salon treatment with K18 we will provide you with a 5ml starter K18 to take home with you.
You will need to use the K18 mask for the next 5 shampoos (remember, NO conditioner).
Once this is complete, you will will need to use every 3-4 washes. So if you usually wash your hair twice a week, then using the mask fortnightly would be great.
Ready to book in for your K18 in salon treatment?
Click HERE.