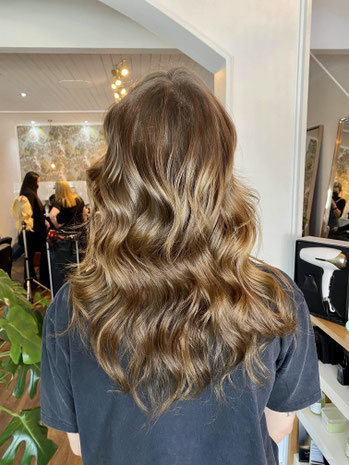 Are you worried about hair damage?
We find many of our clients are concerned about hair damage. In salon we take the time to look and your hair closely, feel it's texture, and ask questions to help us understand what might have caused your hair to become damaged. We then share with you how you can take immediate action to prevent further stress on your hair.
Hair damage can make you hair look dull, frizzy and result in brassy colour. It can make your hair feel rough or even result in breakage. Breakage is most common in blondes and especially prevalent around the front hairline where the hair is finer and more fragile.
The most common causes of hair damage we see are the result of over-cleansing, unsafe lightening, environmental dehydration, excessive heat, and mechanical damage from sleeping with wet hair or rough detangling.
So let's take at look at these 5 common causes for hair damage, and what you can do to avoid them or treat them.
1. Over Cleansing
Are you shampooing your hair too frequently?
And what does 'too frequently' mean?
Shampooing and conditioning your hair can help you feel fresh and clean, and having wet hair will allow you to restyle your hair. Sounds great, right? Wrong!
We know that for most people, you will only need to wash your hair twice a week to remove any excess styling products, oils, dirt or sweat. And did you know that when you get a little older, and those greys start to appear, your oil production decreases and you will need to wash your hair less? Once a week is ideal.
Washing your hair too frequently can lead to a dry, flaky scalp and dehydrated hair that is prone to frizz. It will also help keep your hair in great condition if you choose a shampoo with a sulfate-free formula such as our Davines Essentials.
2. Unsafe Lightening
Love being blonde? And we love it on you.
We love blonde hair, but being blonde means being committed to regular salon appointments (don't try this one at home), nourishing hair care, and understanding how to protect your hair investment.
We can lighten your hair in many ways, but the most common way is to use a powder lightener, or 'bleach'.
Not all powder lighteners are created equally, so it's important that the product used on your hair is a premium quality, salon professional lightener that will maintain the integrity of your hair while it lightens.
We choose to use Wella Blondor for our lightening services because it contains anti-yellow molecules to help reduce orange/yellow undertones during lightening.
When lightening your hair in salon we always recommend adding Wellaplex (like Olaplex) treatment to your lightening service. This is a clear liquid added to your colour that strengthens the inner structure of your hair while we lighten to prevent hair damage (step 1). Once the lightening powder is shampooed off your hair we apply the Wellaplex mask (step 2), and you will need to maintain this treatment at home using the Wellplex no 3 (step 3). Our Wellaplex strengthening treatment can be used in colour or as a stand alone treatment.
Wellaplex 1, 2 with colour
15 mins • $50

A 2 step in salon treatment to strengthen hair, repair damaged bonds and create stronger bonds in the hair while lightening. 
Also suitable for fine hair clients prone to damage, and can be performed as a stand alone treatment.
---
Wellaplex 1, 2 and 3
15 mins • $80
A 3-step service that can be added to colour or used as a standalone treatment to multiply hair bonds and noticeably improve hair integrity and strength. Step 3 take home treatment included.

---
Wellaplex 3
Take Home $50

Use this at home treatment, once a week, to keep the hair strong, smooth and soft.
Shop your Wellaplex 3 take home treatment here.
3. Environmental Dehydration
Your hair might look dull, feel coarse, or become unruly and frizzy if it is dehydrated.
Dehydration can be caused by environmental factors such as air conditioning, the weather if it's hot and dry, spending time in the sun and wind, or swimming at the beach or in pool.
There are two main types of treatments that we offer to support your hair and these can be loosely categorized into moisture based treatments or protein based treatments. Hair that is dehydrated is thirsty and it requires a surge of moisture.
You can have a relaxing moisture based treatment and scalp massage in salon, or at home with the Circle Chronicles using our Wake Up Circle, which is an invigorating mask that gives energy and volume to dull hair and restores tone and hydration to the scalp. This is an ideal recovery treatment after stressful situations or exposure to extreme atmospheric conditions.
Available for just $19.95 in salon or from our online store.
Self-care Sunday perhaps?
4. Excessive Heat
Did you know the optimum styling temperature is 185 degrees?
This is why we choose to partner with ghd for our electrical styling tools. All ghd products are set to this temperature to reduce colour fade and prevent dehydration and structural damage such as breakage.
To prevent excessive heat damage, and even breakage, we recommend spraying your hair with MELU Hair Shield by Davines prior to using any hot tools such as a curling tong, hair dryer or straightener. It protects the hair structure from heat damage and from the stress of hot tools. and is conditioning. It alslo provides excellent antistatic action on those windy days for soft and shiny hair. MELU contains natural active ingredients and you can shop the MELU range here.
5. Mechanical Damage
Lastly, mechanical or physical damage can occur when you sleep with wet hair, or brush and comb your hair too roughly. Gently detangle your hair with our Malliya hair combs, available here. Our hair combs are naturally anti-static and the unique round-tip teeth design ensures minimal snagging while combing your hair. The comb will effortlessly glide through your hair whilst detangling the tightest of tangles - leaving your hair feeling smooth and healthy.
And using a soft and creamy leave in moisturiser like our OI Hair Butter will also help you glide through any tangles. Remember that wet hair is fragile hair, so make sure you sleep on dry hair and use a silk pillowcase to prevent tangles and frizz.
We hope this information helps you understand the current level of damage in your own hair, what might be causing it, and what you can do right now to prevent any further hair damage.
Ready to book now for your in salon treatment? Book online here.
Nadine and the DJH team.
xx