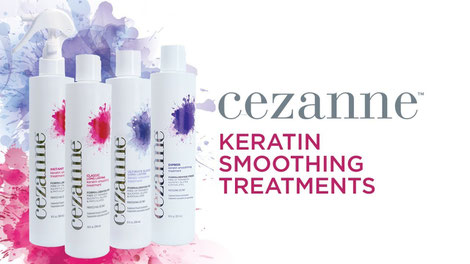 Frequently Asked Questions about our Cezanne keratin smoothing treatment
What is a keratin smoothing treatment?
A keratin is a smoothing treatment smooths your hair with a coating of protein that reduces frizz, adds softness and increases shine.
It will drastically reduce your styling time and make your hair more manageable.
What is involved in the keratin smoothing service?
After we apply the Cezzane treatment to your hair we leave it for the recommended processing time. We then rinse your hair, leaving a small amount of treatment residue in the hair. The next step is a thorough blow dry.  Once the blow dry is complete, the final step is sealing the keratin smoothing treatment on to your hair using a straightener to create smooth, silky, strong, beautiful hair.
Why do we choose Cezanne for your professional smoothing treatment?
1. No wait time for shampooing, exercise, styling and much more. Get smooth and get back to your life.
2. Style your hair how you wish following the treatment with NO RULES on the wait time.
3. Cezanne seals into the hair before you leave the salon, unlike other keratin treatments that need time to bond with the hair.
4. Cezanne offers keratin-enriched take-home products to help maintain the longevity of your treatment.
5. Our smoothing treatment is 100% formaldehyde-free. It's also free from any other kinds of aldehydes and harmful toxins because your health is important to us.
6. Cezanne is hypoallergenic, dermatologist tested and won't release any noxious gases.
How much does the Cezanne keratin smoothing treatment cost?
Short          $198
Medium     $275
Long          $330
We can also ad a toner to your hair with the Cool Blonde additive for an extra $15
How long does it take to do this service and how long will it last?
This service will take 1.5 - 2.5 hours, depending on the length and thickness of your hair.
The effects of the treatment will last 3-6 months.
To ensure the long last effect of your Cezanne keratin smoothing treatment we recommend maintaining this service at home with Cezzane Perfect Moisture Shampoo & Conditioner, and Blowout Creme.
Want to learn more?
BOOK NOW. or call us on 38448302.